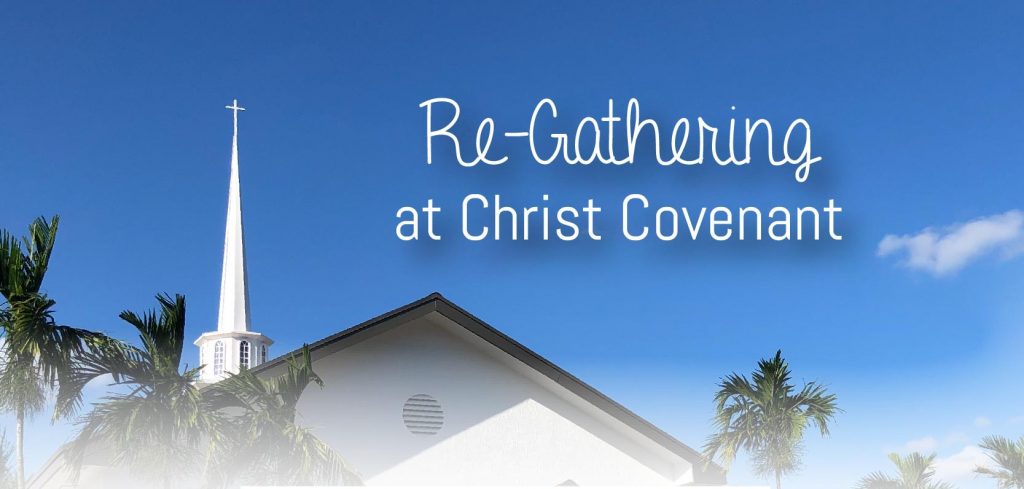 We have posted Christ Covenant's Phase One Guidelines which mirrors the guidelines other churches in Broward County are using. We realize that some will not feel comfortable to re-gather for worship for some time and that this Phase One Plan will prohibit others from gathering but please remember this is Phase One. We will be live-streaming the service for those who cannot attend. Jesus taught us that the second greatest commandment is to "love thy neighbor" and these guidelines have been put together in an attempt to honor that commandment.
Please let me know if you have any questions.
 Pastor Brian
(954) 816-5813
Phase One Re-Gathering
Protocols and Guidelines
The congregation is

required

to register online for worship attendance on the Church Center App. You can find a link to download it HERE or on the Christ Covenant Website under "Events" and then "Check-in." Registration will assure proper distancing, help determine the need for a second service, and help to shepherd those members who are staying home.
During Phase One congregants are required to wear masks in the sanctuary building. We have masks available for those who need one. Everyone should practice physical distancing while on the campus.
No nursery or children's classes at this time. Families will attend the service together. Worship activity sheets will be available to assist with children during worship such as listening-activity guides, crayons, etc.
Kitchen, children's hallway, and church house are closed and off limits.
No bulletins
Pastor Brian and the Worship Team will not wear a mask while leading worship and preaching but will wear a mask otherwise. Pulpit has been moved back 15 feet from the first row of chairs.
No Elder Prayer at the end of the service or congregating in the sanctuary after the service.
People will be dismissed after the benediction and Gospel Doxology starting with in the back seats exiting first.
Sermon notes will be available at the end of the service as people exit.
Tithes, offering, and alms can be deposited in the donation box in the foyer before and after the service.
The sanctuary building will be disinfected after each service by wiping down all the chairs, all surfaces, doorknobs, and doors.
Lord's Supper will be served using the Fellowship Cups in a self-serve fashion. Fellowship Cups will be place in uncovered communion trays on tables on the main floor on each side of the steps in front of the sanctuary. The congregation will be asked to come forward in spacing fashion, self serve, and hold the Fellowship Cup until everyone is served, and receive the elements together. https://www.amazon.com/Fellowship-Communion-Wafer-Juice-500pk/dp/B00M0RJNGI
Staff Meetings, Officers Meetings, Youth Group, and Bible Studies will continue to use Zoom until further notice.